Prayer Prompts using Songs
Do It Again (Written by Daniel Henderson, Strategic Renewal)
Free Resources from Crossway
Our Unshakeable Hope
We want to serve you in these uncertain times. When many families are reorienting their lives and schedules around more time at home, we hope you will find these resources helpful as you ground yourself in the hope of the gospel and seek to encourage others to do the same.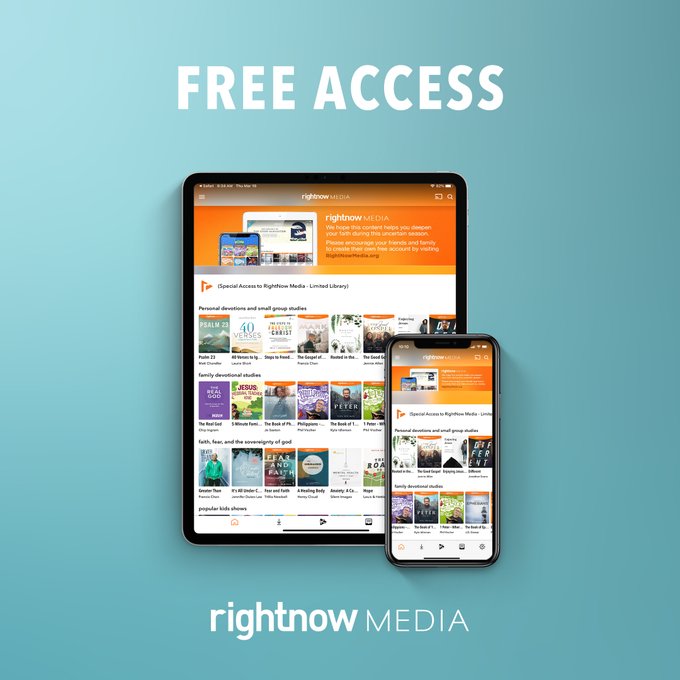 Right Now Media
Right Now Media is providing free access to a curated library to help you and your family be spiritual fed during this global concern.
---
Lifeway Kids at Home
LifeWay has designed a FREE resource for times like this when churches need to temporarily postpone their weekly times of worship and Bible Study. Each session includes an easy-to-facilitate media-driven experience that features a Bible story video, life application videos, and downloadable activity pages and family discussion guides.
Step 1) Go to the website. Step 2) Log in or create an account (free) Step 3) Click the LifeWay Kids (or Preschool) at Home icon on the main page of Digital Pass
---
Youth Group at Home
A free resource by YM360 providing youth workers and parents with solutions to help them empower discipleship in the middle of COVID-19.
---